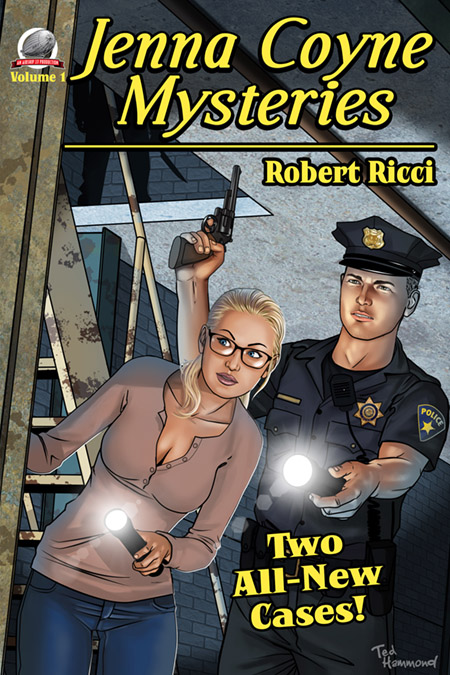 Airship 27 Production is thrilled to debut a new mystery series by writer Robert Ricci. This debut volume features two complete mysteries.
BLOOD ON THE COBBLESTONES
Jenna Coyne never set out to be a detective. She was content working for a sleazy insurance outfit and residing in Boston's North End. When a case of mistaken apartments gets her caught up in a bad drug deal, she has to rely on her own wit and courage to untangle a twisted crime of vengeance.
CRUEL WINTER
Suffering from a case of PTSD, Jenna's new boyfriend, Boston Police Sgt. Conrad Martin is quickly falling apart and becoming dependent on alcohol. This being the result of their encounter with vicious drug peddlers. Only another baffling puzzle can bring Martin out of his mental fugue. A mystery that will lead them into danger in middle of a savage New Hampshire snow blizzard.
"A Boston based writer, Robert Ricci, knows New England all to well," says Airship 27 Production's Managing editor Ron Fortier. "We were delighted when he approached us about launching this new Down East mystery series." Ted Hammond provides the cover and the interior illustrations were delivered by artist Jason Wren, with Art Director Rob Davis handling book design.
Move over Miss Marple and Nancy Drew, there's a new Lady Detective on the case!
AIRSHIP 27 PRODUCTIONS – PULP FICTION FOR A NEW GENERATION!
Available now from Amazon in paperback and soon on Kindle.
(https://www.amazon.com/dp/1946183911/ref=sr_1_1?dchild=1&keywords=JENNA+COYNE+MYSTERIES+Robert+Ricci&qid=1602638864&s=books&sr=1-1)