READY FOR FALL? Boy, am I ready for some cooler temps. Living in Georgia, the summers can be a bit oppressive and this year has been no exception. After spending my fifty years living here, you'd think I'd be used to it by now, but no. I am not a fan of the heat.It's been a busy time here at Nash Central. Projects are moving along nicely and I've even appeared at a couple of local conventions, which was nice. Sadly, I had to cancel my appearance at this year's Dragon Con this Labor Day weekend. My dad is having some back surgery so I will be taking care of him during his recovery. It'll be the first Dragon Con I've missed since 1989. Feels weird, but technically, I'm still part of the con on the virtual side so that's something. I'm excited to head back in 2022.Work continues apace on my many projects, which is always nice. You can learn more about upcoming projects and some free fiction below. A reminder, most of my ebooks are FREE to read if you have a Kindle Unlimited subscription. As always, thanks for your support. it is appreciated. I hope you have a great week ahead.
ON ANOTHER WAVELENGTH ANNOUNCES "MIDWAY" A FULL-CAST AUDIO SC-FI/HORROR WRITTEN BY BOBBY NASH! COMING SOON! Oh, I am definitely excited. One of my stories, Midway, a sci-fi/horror tale is coming to life in a full-cast audio drama from the amazing folks at On Another Wavelength. Keep watching this space for more details as they develop. The short story version of Midway appears in Bobby Nash's Frontier, available in paperback and ebook. Read it FREE with Kindle Unlimited. Published by BEN Books.
—
A damaged spaceship with untold treasures from across the universe…
A team of first responders en route…
A gripping horror story…

Another episode of On Another Wavelength is on the way, this one penned by Bobby Nash will blow your socks off!

An Evcol Entertainment / Clockwork Digital Studios Original Production, a part of the On Another Wavelength audio anthology series featuring the voice talents of Samantha Boffin, Carl Dolamore, Will Harrison-Wallace, Mitch Howell, and Chris Machari – Written by Bobby Nash, Directed & Produced by Simon James Collier, Series Created & Co-Produced by Adam Dechanel, Soundscape Design: Zachary Elliott-Hatton.

Are you excited yet?
SNOW SHORTS VOL. 1 AUDIO AVAILABLE FOR PRE-ORDER! #FreshSnow in #TheSummerOfSnow! PRE-ORDER NOW! Snow Shorts Vol. 1 is now available for pre-order on audio. Available September 7th! Snow Shorts Vol. 1 features stories by Gary Phillips, Nicole Givens Kurtz, and Bobby Nash. Narrated by Stuart Gauffi. Cover by Plasmafire Graphics' Jeffrey Hayes. Published by BEN Books. Learn more about Abraham Snow at www.abrahamsnow.com.You can find Snow Shorts Vol. 1 available for pre-order on audio at the following:
Audible
Amazon US
Amazon UK
Amazon CA
Blackstone Library (December 7th)More audio options coming soon. #SnowDayAlso available in paperback and ebook.Declassified at last! Snow Shorts delve into the adventures of Abraham Snow, his family, and his friends in short, bite-sized action/thriller tales. Volume 1 contains stories by today's top talent featuring Abraham Snow, Big John Salmon, and introducing Mama Snow herself in Laura Snow's first in story appearance. Snow Shorts Vol. 1 is now available in paperback and ebook. Read it FREE with Kindle Unlimited. Audio coming September 7th. Individual Snow Shorts stories are still available as $0.99 ebooks. Find links to all at www.abrahamsnow.com.

Coming in September:Snow Shorts #6: Snow Haven by Bobby NashSnow Shorts Vol. 2 coming soon.Coming in October: Snow Heart by Charles F. Millhouse
SNOW'S ADVENTURES CONTINUE… #FreshSnow! BEN Books and I have invited some talented writer friends to write short stories set in my SNOW series. I'm calling them Snow Shorts. $.99 ebooks are just the beginning.Snow Shorts #1: Snow Flies by Bobby NashSnow Shorts #2: Thieves' Alley by Gary PhillipsSnow Shorts #3: A Stranger Calls by Nicole Givens KurtzSnow Shorts #4: Snow Ambition by Brian K. MorrisSnow Shorts #5: Angel in the Storm by Mark BousquetMore Snow Shorts are on the way! Keep watching www.abrahamsnow.com and www.ben-books.com for more news.Snow book 6: SNOW DOWN is currently being serialized at www.patreon.com/bobbynashA new Snow Short: Snow Chase appears in Pulp Reality #2. You can read it HERE.Coming in September:Snow Shorts #6: Snow Haven by Bobby NashSnow Shorts Vol. 2 coming soon.Coming in October: Snow Heart by Charles F. Millhouse
SERIALIZED STORYTELLING CONTINUES ON PATREON WITH SNOW DOWN (SNOW #6) & SUCH A NIGHT – A TOM MYERS MYSTERY! My Patreon page continues to serve as a hub for releasing my work as serialized novels and novellas and more are lined up and on the way. For as little as $1 a month, you can get access to these stories before anyone else, find previously released serialized stories, get behind the scenes news, updates, sneak peeks, and more. Not bad for only $1 a month, which helps the author pay bills and keep writing. There are also higher tiers with even more perks. Join us HERE today!—
SNOW DOWN, the 6th book in the popular Snow series recently began its serialized run on Patreon. It's all been leading to this! Who sold out Snow to the Ortega Organization? Who killed (spoilers)? Can Snow put an end to it before a hired killer collects the bounty placed on his head? Will everyone make it out alive? It's the final showdown with an old villain. Snow Series 1 comes to it's startling conclusion in SNOW DOWN! — Sheriff Tom Myers returns this June in SUCH A NIGHT – A Tom Myers Mystery. Everybody knows what happens in the trailer on Dogwood Alley. Teenager, Steve Conrad was anticipating a night that would change his life. The last thing he expected it to include cold-blooded murder. There are additional plans beyond these. Stay tuned.As always, your support is appreciated.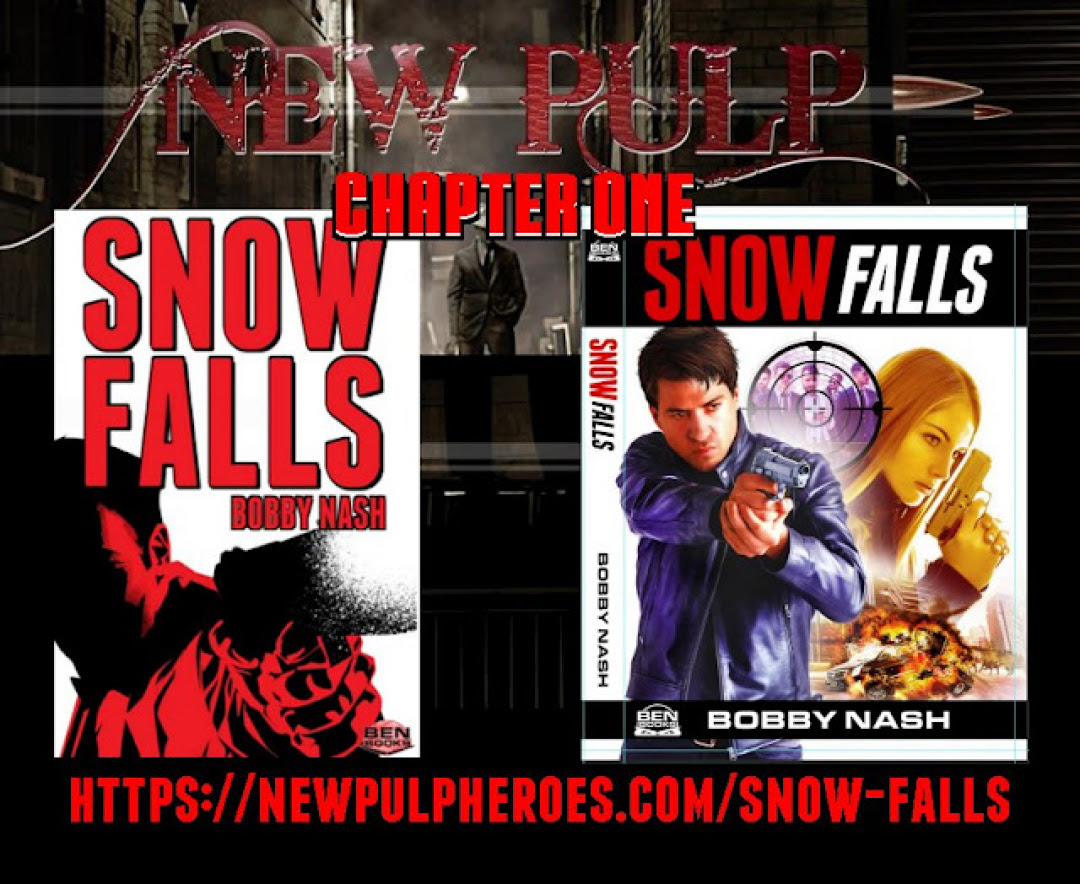 NEW PULP FICTION PRESENTS CHAPTER ONE– SNOW FALLS! Just in time for #IndieAugust, New Pulp Fiction presents the latest edition of CHAPTER ONE! Here you get a free taste of a great new pulp fiction book written by one the medium's best authors. This month, it's winter in August with Bobby Nash's 202o New Pulp Fiction Award Winning Novel SNOW FALLS. Read it HERE.

Check out all of the great opening chapters HERE.Learn more about SNOW FALLS at www.abrahamsnow.com